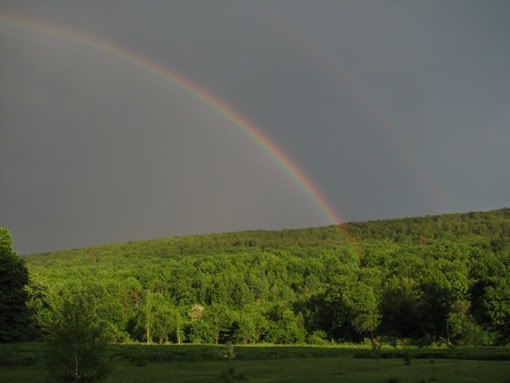 Instead of a single day of good fortune like yesterday's auspicious 07/07/07, this has been a week of luck for one reason: rain. Although it can't be discerned from the surrounding woods with their uncommon fullness bordering on rainforest-like lushness, this summer has been uncommonly dry. Late spring and summer started out so well it wasn't conceivable that midseason has me contemplating water conservation and rationing. I'm thinking the "D" word but trying hard not to say it.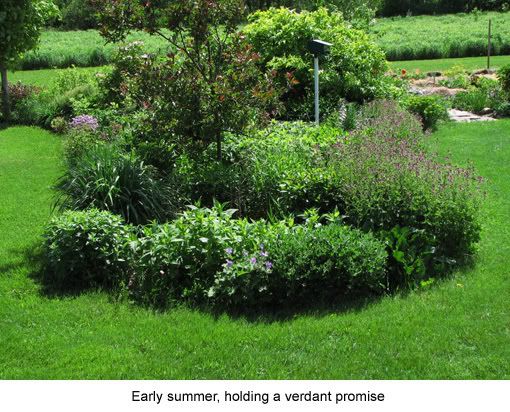 Incredible greenness abounded in early June, recreating a vision of Irish green everywhere. I took unseemly pride in the richness of it though I remained mostly an incidental spectator. I took it for granted it would remain so, relying on the typically abundant rainfall to keep everything hydrated, priming for a replication of last year, a perfection of summer.
Two weeks into it, weariness began to appear. I have given in to my fascination with Geranium phaeum and have inserted them as often as I dare into many of the plantings. Hardiness, ease of culture and propagation, quick to grow, early and long flowering (usually), bee attracting, an ability to accommodate and add fullness in any allotted space, thriving in part-shade (its preference) through full sun, and the simple beauty of its dusky, white-eyed and swept back petals are why I like it.
Last year they were beautiful all summer and this year not so good. They've stopped flowering and turned yellow, falling open and showing off parts of themselves I would rather not see. The other Geraniums have followed suit, along with assorted Salvias, Filipendulas, and other random plants, yes I'm talking about you Veronicastrum. Flower buds have aborted and even worse never developed on a few plants. Others struggle and gone straggly, sending up a few flowers and then quickly browning out, as if eager to be done with it all, giving up on the season and trying to hang on for a different and better growing year.
Early on, before inserting and opening the earth for the first time here, I had decided that all perennials and most shrubs would receive attentive care and watering to aid in establishing them during their first growing season but ever after they would be on their own. I make an exception for trees and will continue watering them until they show by their growth and performance that my assistance is no longer required. I'm in the Northeast, I reasoned to myself, and my days of endless hand and sprinkler watering are behind me. It is a hard line I have established but I've held true to it for the time I've been in New York. It has not been easy this year but I have stuck to that philosophy, mostly, but last week you would have caught me sneaking a slow trickle to a favored plant.
Because of my background, the possibility of a drought dryer period is never far from me. Reliant on a well, I would rather hoard water for household use than plants in the garden. That decision seems a little insane considering the gobs of money that has been spent outside but that is how I feel.
This is still a farming community and everyone talks about the weather. The dryness has helped with the haying, ensuring the first cut was perfect but will there be more? The corn is worrying, staying short and wondering how large and full the ears will be. A dry summer affects the fall color, hurting tourism in an area that is already struggling and precarious in the best of times.
Each week, it seems, clouds build up and darken, showing the promise of rain. But then they pull apart and scatter or, even worse, blow by, dumping the rain elsewhere but not here. This isn't the first time we've been dry but I'm more sensitized to it this year than before and I don't know why.
This week it rained, including the last four days. Not enough to exult in but enough to nurture hope. Is it the vanguard to better days or a blip and aberration to an establishing pattern?