Not much is going on that isn't the same for all gardeners: snow gone, ground drying up, warmer temps, shoveling the ground for the first time this season, planting, weeding, mulching. I'm doing it and don't want to read about it, so how about some pictures and a bit of relevant text instead?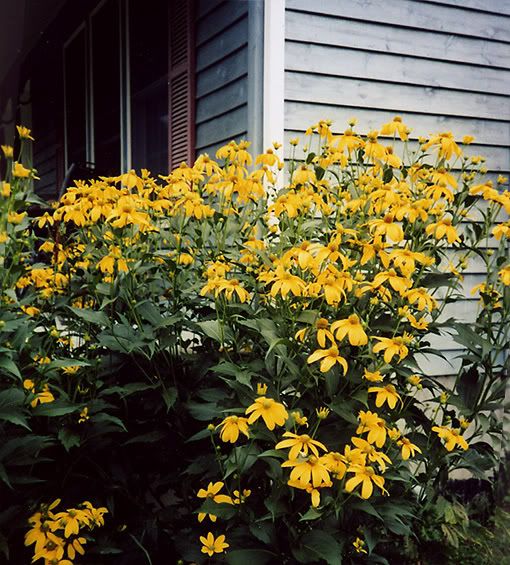 Here was my problem: fill a space along one side of my porch. Because of a change in grade, the plant needed to be 5 feet or taller but width wasn't as crucial. The plant had to be herbaceous because winter snows are shoveled off the porch and onto or over this area; a shrub would soon be crushed by my shoveling, and become a pile of broken sticks. The ability to tolerate full sun, medium to dry soil, and wind were additional requirements. My solution was Rudbeckia 'Herbstsonne' (syn. 'Autumn Sun').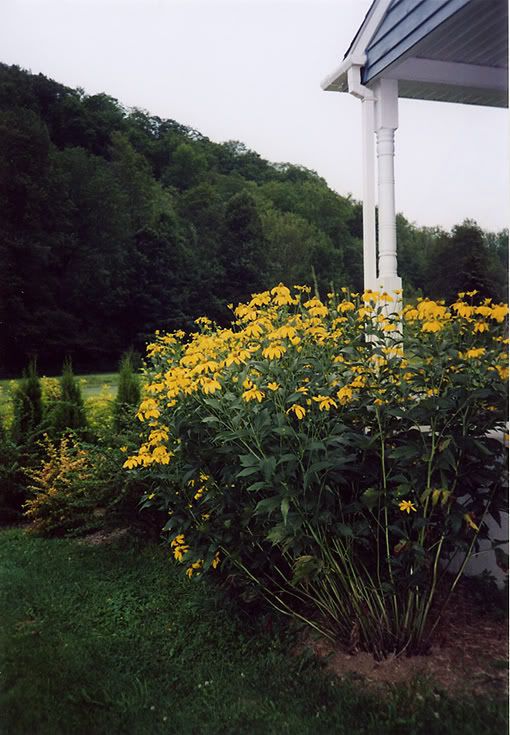 This is a plant that does well here, even when wind-whipped. The lower third of the stems is awkward and unattractive, the bottom leaves developing brown patches and edges, dessicating and drying up when the flowers begin opening. This action is described as senescence, and in this case the lowest stem leaves are sacrificed as the plant allocates more energy into its floral parts. This is a common occurance in many plants, especially lilies and New England asters (Aster Symphyotrichum novae-angliae). My S. n-a. 'Andenken Alma Potschke' tries me yearly.
But that isn't a significant part of the plants' growth that concerns me because the view I'm interested in is this one, from the porch. In a year with plentiful rain, like last year's, plants will be over 6 feet and liberally cover themselves with flowers in late summer and early autumn. The previous year was a dry one and the flowers grew even with the porch, pretty enough but not the display I had been aiming for.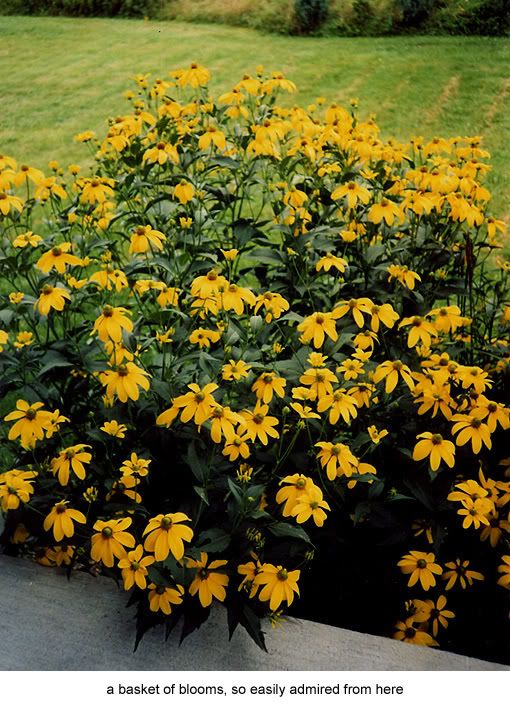 I really didn't know what I was going to plant in the bed but was open to anything. I prowled nurseries, seeing plenty of candidates but nothing seemed right or satisfied me. I found 'Herbstsonne' at a local nursery and knew my quest had ended. They were extravagant plants at an extravagant price, large healthy specimens in 5-gallon containers. I couldn't help myself and bought two of them, feeling ridiculous for buying perennials in such large containers and doubly ridiculous for forking over the money. The plants quickly established themselves and realized my floral dream during their first year with us. They have increased in width each year, growing fuller and thicker but never rampant, mindful of my distaste for colonizing plants.
I first met this plant many years ago at a nursery. A Not For Sale sign was prominently posted but it didn't keep me or other interested customers from admiring it. Rich green foliage topped with extra-large flowers, their bright yellow petals surrounding a prominent raised center of green received many admiring looks and perhaps a little lust, even from snobbish jaded plant aficionados. There is a gentle argument going on in plant circles regarding its origins: is it nitida or laciniata or a hybrid of the two? Whatever the outcome, 'Herbstsonne' will rise above it.