I had a conversation with a gardening friend about watering the other day. We each have strong personalities and the talk was lively and interesting, filled with opinions and advice. When the time came for "I'll show you mine if you show me yours" I did and I'll share them with you too.
I have spent a large portion of my life with a hose in my hand and at this juncture I should be able to measure my hose-time in years and not hours, days, weeks, or months. I want my tools to work well and achieve my purposes with a minimum of problems. I also want the labor of watering to be easy.

I can barely remember the earliest days when I watered without a hose-end shutoff valve. They give me precise control over the water flow and are water saving devices to boot. I'm able to water the soil in my containers and not their surrounding environment and that's a good thing, no matter where you live. I prefer the metal type because of their durability. I've had mine for years and when they start leaking – something all of them will eventually do – they can be repaired simply and easily. Unscrewing the single screw at the lever disassembles them and the parts are removed through the new opening. Take the rubber o-rings to your friendly neighborhood hardware store for exact replacements and pick up a few washers for spares while you're out, you'll be glad you did. Reassemble the valve and you'll be able to enjoy another year of trouble-free use. I don't like the plastic valves because I've had them split apart from structural weakness. I also don't want valves with paddle handles as they've dug themselves into my hand too many times and take away from the pleasure of watering. Beware of valves with swivel hose connectors as they have a tendency to leak fairly quickly.
Shutoffs give me independence from my faucet and when I put them in-line while connecting lengths of hose, I achieve more versatility in my hose runs. This is really useful when I'm trying to keep newly planted trees well hydrated. I have a lot of hoses, almost a fetish actually, and leave them in place rather than dragging them around. Hoses can be heavy when filled and I've accidentally dragged them through other plantings, something my plants don't really care for. The fun really begins when a y-connector valve for running more than one hose is hooked up to the faucet. You can go really crazy if you add in multiple y-connectors. It is a fetish.


The best tool I have found for watering seedlings and small transplants is the Wonder Waterer. It is a pricey little thing but there is nothing better out there. Imagine trying to spot water a few cells in a plug tray. Now imagine the tray is 10 by 20 inches with 512 compartments and you need to hit the edges and a few other cells. There is nothing else that will work except this tool. It has extremely fine holes that break the water into the gentlest of streams, not washing out or damaging the littlest plants but giving them the soaking they need. A shutoff valve is a necessity as the WW works best on very low pressure. Eliot Coleman also proselytizes this tool in case I haven't convinced you.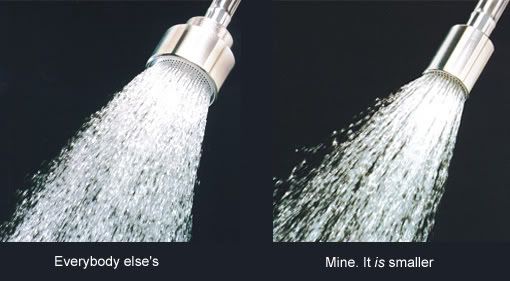 I use a breaker when I have general hose watering to do. My first nursery supervisor quickly spelled out the difference between a sprinkler and a breaker. A sprinkler is for watering broad areas of lawns and landscape plantings. A breaker attaches to the end of a hose and is used for controlled hand watering. I prefer a round head to a fan shape, as it is easier to keep the water where I want it to go instead of hitting a lot of unwanted areas. I have very poor water pressure and can't use a normal sized breaker so I've turned to a smaller version of the big ones. I sometimes feel slightly emasculated that mine isn't as big as everyone else's but it does a fine job nonetheless.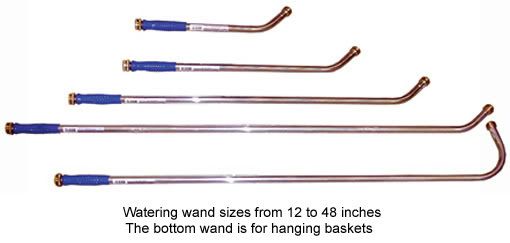 I consider shut-off valves and good breakers to be essential tools and include the Wonder Waterer for serious seed growers. Watering wands are not necessary but they make the job a lot easier. I have found that wands with handles that have built-in levers for easy on/off water delivery to be not so easy because my hand soon gets tired from depressing the lever. Short wands are good for maneuvering in tight spaces. My porch is the sole haven for shade lovers and a short wand keeps me from bumping and marring the plants. A longer wand is ideal for vegetables, beds, and landscape plantings. I think a 36-inch one is good and if you can handle the awkwardness of it, a 48-inch length even better. And remember: you don't have to be a person with magical abilities to use a wand.


You should have some hose menders on hand, too. Female and male ends and an in-line one will take care of all your hose repair needs. I use my hand pruners to cut out the section of hose with the leak. I then soak the cut ends in a cup of hot water to soften them, insert the mender, and tightly screw the girdling sections together. My hoses stay leak-free for years when I do it right.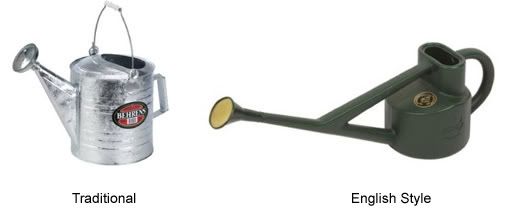 Watering cans add versatility and convenience to the mix. They come in a lot of different sizes and styles; get the one you like and ignore well-intentioned-but-not-wanted advice for others' preferences. I like a can with a large opening on top to make it easier for mixing fertilizers and drenches. A replaceable rose, the sprinkling end of the can, is also good as I've plugged mine up by applying a heavily organic fertilizer and realized too late I should have filtered it first to remove small insoluble particles.
When the season is over I remove the wands and leave everything else joined together. This helps me get ready the following year, as I don't have to hunt down the hiding places of the small parts. Everything is unscrewed halfway to keep them from getting annoyingly stuck and I can make changes or repairs as needed without cursing my previous year's lack of forethought.
After a long couple of months of unseasonable cold and a blast of winter last week, we have earned this week's fine weather. The lingering ice sheets from the Valentine's Day storm left me yesterday and I can finally work the soil in the garden. Excuse me, I think some hoses need to come out of hibernation and be readied for another year's service.