When I'm thinking of building a garden project, the first book I turn to for ideas and inspiration is Classic Garden Structures by Jan and Michael Gertley. I've read and leafed through many books on making and building objects for the garden but this one remains my favorite. Beyond their inherent usefulness, all of the projects are good looking, well-designed, and a pleasure to own and use. They are simple enough to be doable with only a few that are really challenging. I'm still thinking I might be able to build my dream greenhouse someday.
The Gertleys have a way of taking many common garden objects and making them extraordinary. Ornamental molding on tomato cages may sound peculiar but when you've seen how the Gertleys use it you will wonder why it isn't commonly done. Many of the structures have finials, end caps, and posts with ornamental flourishes but instead of looking fey or twee you will be saying yes! to yourself as you're reading.
Starting off with Tools and Materials, the book is divided into four additional sections:
Trellises and Plant Supports
Tables, Benches, and Plant Stands
Structures for Growing Plants
Garden Tools and Accessories
Each project begins with a gorgeous photograph showing the item in use. It is then followed by a complete materials list (including fasteners), easy to follow stages of construction, and diagrams explaining construction nuances. If you opt for a protective finish, the authors often use solid and semi-transparent stains, they will let you know when to apply it during construction.
I freely admit I am not the handiest person in the world and I feel the Gertleys are writing for me. Never condescending, their writing is lucid and easy to understand. This book is appropriate for every level of ability and remains an essential element in my library.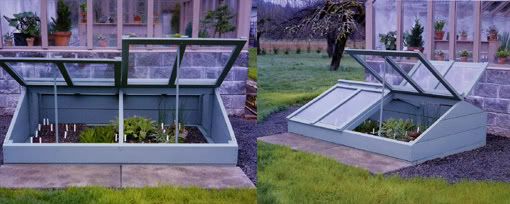 My current project is a cold frame, the less glamorous cousin of a greenhouse (remember my dream?). The cold frame will give me a protective growing area to get a jump on our short growing season. This one has very generous proportions, 7 feet long by 5 feet wide, that will give me plenty of room to space out the plants as they grow bigger. I will also be able to fit large propagation mats on the bottom underneath the plants, giving added protection with their heat during chilly nights and making a more versatile growing environment.
The most unusual feature of this particular cold frame are the four windows, two in front and two in back, rather than the more commonly found one window. This will allow easy access to every section within and also gives me a lot of options for ventilating, a key element for any growing structure. Another feature is more subtle – the middle support board for the windows has a 10 degree channel cut into its upper surface. If it is raining and the windows are closed, the water will drain off the front and back of the cold frame instead of sliding under the windows and dripping on the plants below. That kind of thoughtful detail permeates the Gertley's designs and is one more reason I recommend their book.
My cold frame will look different than the picture for several reasons. My board widths are different as I am recycling lumber from a portico that fell down from snow several winters ago. I am also substituting heavy 6ml greenhouse film for the glass in the windows, as it is also a supply I have on hand, along with the fasteners and leftover stain from the house. In fact the only supply I had to buy were the hinges for opening the windows. I am still building my cold frame and looking forward to its completion and using it. That's if the snow would ever let up and go away.