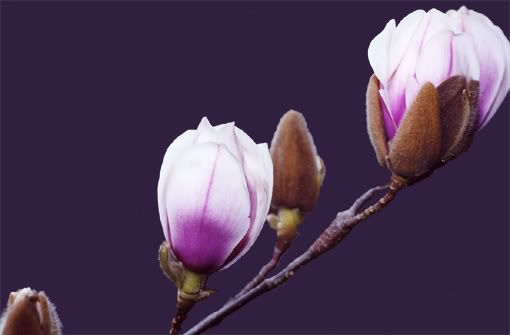 A strong argument for calling Magnolias Tulip Trees
I grew up with a large Southern Magnolia in a small backyard. Its great size dominated the space, smothering the ground below and adjacent plants with massive quantities of leathery leaves and sucking up all available moisture with large surface roots. I was unknowing of its survival tactics and found its main purpose, from a child's viewpoint, was scaffolding, aiding my climbs and elevating me beyond the neighboring houses.
I remained oblivious of the Magnolias surrounding me until I went to an exhibit of collected works from the studio of Louis Comfort Tiffany. Along with the iconic nature-inspired lamps, vases, and other decorative pieces, were two sets of large windows. The wisteria panels were breath taking, combining delicate colors and impeccable composition into master works of astonishing beauty. But it was the Magnolia windows that have been with me since. Created for Laurelton Hall, Tiffany's home in Oyster Bay, New York, they embodied the simplicity and spirit of the trees: white blossoms supported by thick leaded stems and branches, traced onto a sky of clear glass. I never expected art to profoundly affect me but it did. (A current exhibition of Tiffany art and objects from Laurelton Hall is at the Met in New York through May 20.)
When the calendar shifts into March and April, I can't help but think of deciduous Magnolias. Whites, pinks, creams, maroons, yellows, and rose, they provide an aerial counterpoint to the bulbs growing below them. Most common are the myriad varieties of Saucer Magnolias, M. x-soulangeana, but if you have a chance to see one their parents, M. denudata, don't miss it. An enchanting vision of pristine elegance, it has an appealing grace often lacking in its progeny. M. campbelli is a big tree and also has the largest flowers, 18 inches or more. It's worth visiting warmer areas of the country to see them, as they are too tender for here.
Cold climates can also grow Magnolias. The smallest is Star Magnolia, M. stellata, often seen as a multi-stemmed shrub. Flowering when young, its flowers with strappy tepals densely cover the plant, I'm guessing to overcompensate for its small size. M. kobus is more tree-like, with white flowers in spring. It is slow to flower, sometimes taking ten or more years, and is not often grown.
M. x-loebneri is the superb hybrid between stellata and kobus and is highly recommended. Flowering when young, it combines the flower form of stellata and the size of kobus into a garden enhancing small tree. Common varieties are 'Leonard Messel' – pink flowers, and 'Merrill' – white flowers. My 'Merrill' anchors a small border and is always a pleasure when blooming and afterwards.
Full sun and even moisture are their main requirements but placement is important too. Nothing looks worse than a Magnolia clipped into an unnatural form or trying to maintain a large tree in a location that's too small. Fragrance has always been a hallmark of Magnolias, with each species and variety contributing its unique flavor. Tropical species of Magnolias and their near relative Michelias can be suffocatingly powerful when in bloom.
Magnolias are of ancient lineage and are considered one of the earliest flowering plants. I once visited a Primitive Garden consisting of plants from earlier days. The plantings featured Magnolias that had been underplanted with ferns and cycads with horsetails (equisetum) and Gunneras added for contrast. Anchored by Ginkgos, the garden made for a thought-provoking display.
There is also a Magnolia Society that includes a complete cultivar and description list.